Bathroom Installation, Raleigh, NC
Our bathroom installation services will help you get the most out of your home while adding value.
The layouts of homes built a few years ago in the Raleigh, North Carolina area often don't work with how families live today. If you have a space that feels more of a waste than you'd like and your family would benefit from an additional bathroom instead, turn to us at The Bath Shop for a custom bathroom installation that will not only make your home more livable, but add value to it, as well.
Our bathroom installation services can also be the ideal answer for a bathroom that is too small. By expanding the bathroom into an unused space, you can get the extra features you need to have the oasis of your dreams. Framing out even a few extra feet can mean accommodating a soaking tub, curbless entry walk-in shower, dual sink cabinetry, or another feature you'd like in your bathroom installation.
Finally, the third way our bathroom installation team can help you is when your bathroom space is sufficient but the layout is completely wrong for your needs. We can demolish all the existing components, relocate any water lines or drains, and install everything new from ceiling to floor so that your new bathroom fits your needs perfectly.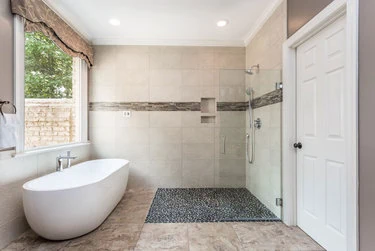 Invest in Your Home! Contact Us Today to Renovate Your Bathroom.
Our team is comprised of experts in everything from plumbing to window installation, so there is rarely a need to outsource any of the work involved with your bathroom installation. Several of the members of our team have many decades of experience, so you can be confident that everything will be done to your complete satisfaction. Contact us today to schedule an in-home consultation, so we can see what you would like done and brainstorm with you on how to accomplish it.
At The Bath Shop, we offer bathroom remodeling services in Raleigh, Cary, Durham, Morrisville, Chapel Hill, Wake Forest, Clayton, Garner, Youngsville, Carrboro, Fuquay-Varina, Holly Springs, and Apex, North Carolina.
Get Started On Your Project
Let's talk about your bathroom or kitchen ideas and bring them to life!