Tile Design and Installation
Craftsmanship That's Squeaky Clean
Tile tells the story in your bathroom; the material, color, and pattern of the tile you select are defining design elements. Will your bath or shower have classic subway tile, Old World terra cotta tile, elegant marble tile, or urban, industrial-chic concrete?
With the Bath Shop's expert tile design and craftsmanship (customers have called our tile installers 'true artists' more than once!), the tile in your bathroom or shower will showcase your unique style.
Of course, tile doesn't just look great – it's a workhorse, too. Strong, durable, water-resistant and easy to clean, with our quality materials, you'll have surfaces in your bathroom that will last for years.
We'll work with you every step of the way to select the materials, create a design, and execute top-notch tile installation: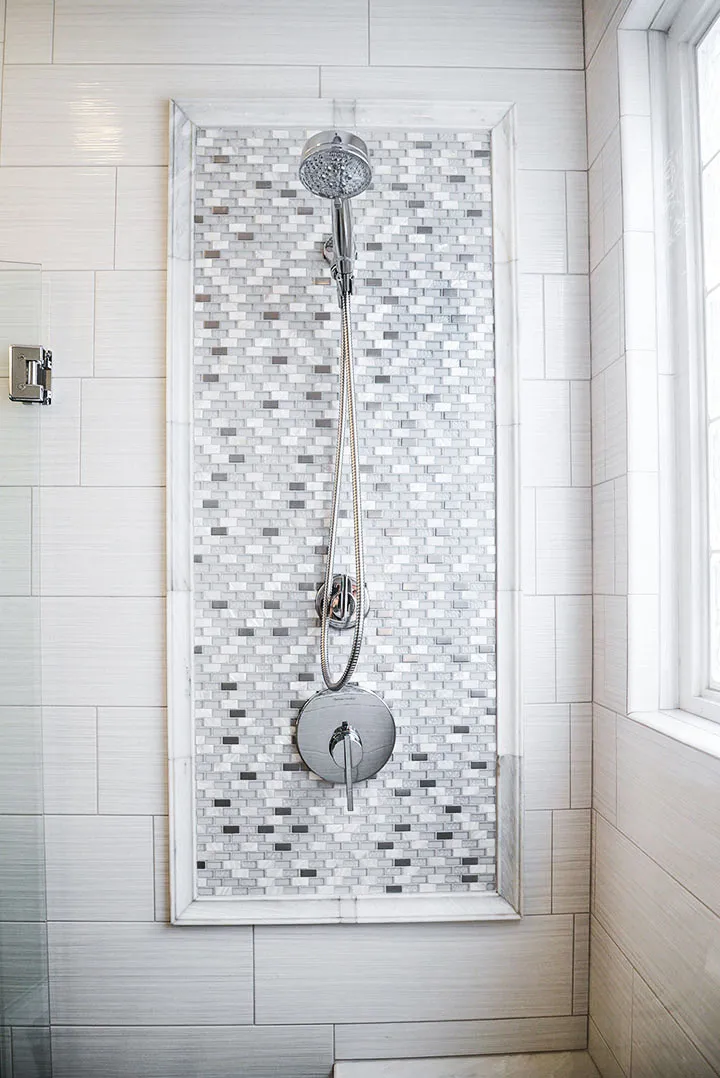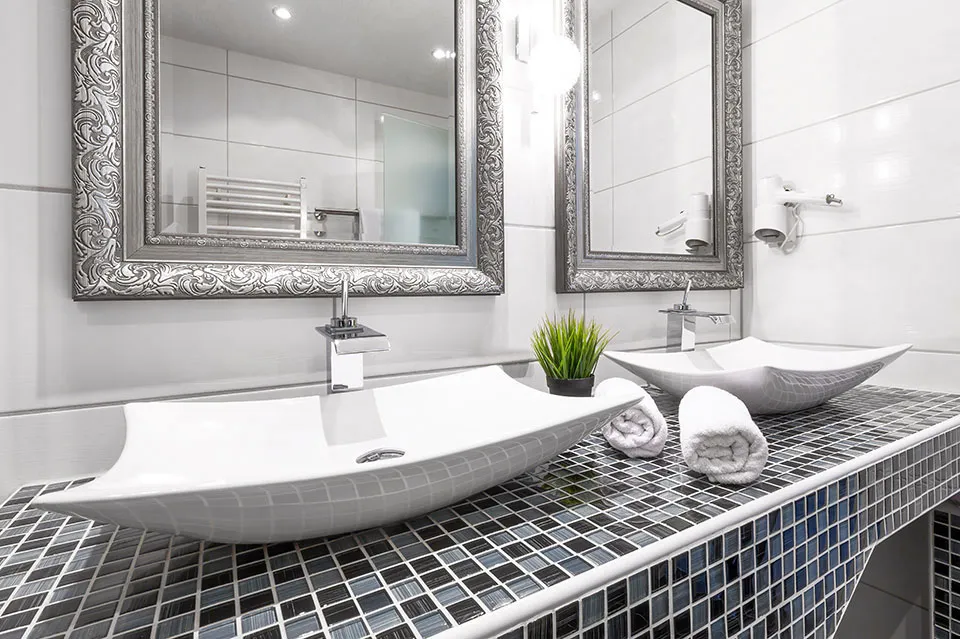 There was a time when tile came in two shapes – square and rectangle. Thanks to advancements in technology, tile can now be found in nearly every shape and size—from linear to wave mosaics. At The Bath Shop, we aren't just well-versed in the classics; we also keep up-to-date with the latest trends and the newest materials on the market. During the materials selection stage, we can suggest options that go far beyond what you'll see while browsing at a big box retailer.
Available in myriad shades and hues, tile is just as versatile as paint. You can create an ombre effect with graduated color. Or, use a mosaic of blue and green glass tiles to create a cheery, coastal shower or bath. Bright pops of penny tile can also be a great way to accent your color scheme and create visual interest. And, muted neutrals create a natural, spa-like oasis.
As if material, shape, and color weren't enough, the configuration of your tile adds another layer of nuance and sophistication. For example, a simple, straightforward tile layout often works best for a clean, minimalist look. Trying to make a small bathroom appear more expansive? A diagonal tile design can make a small half-bath or powder room appear more expansive. Those seeking a sophisticated, traditional look might want to consider a tile layout in a herringbone pattern.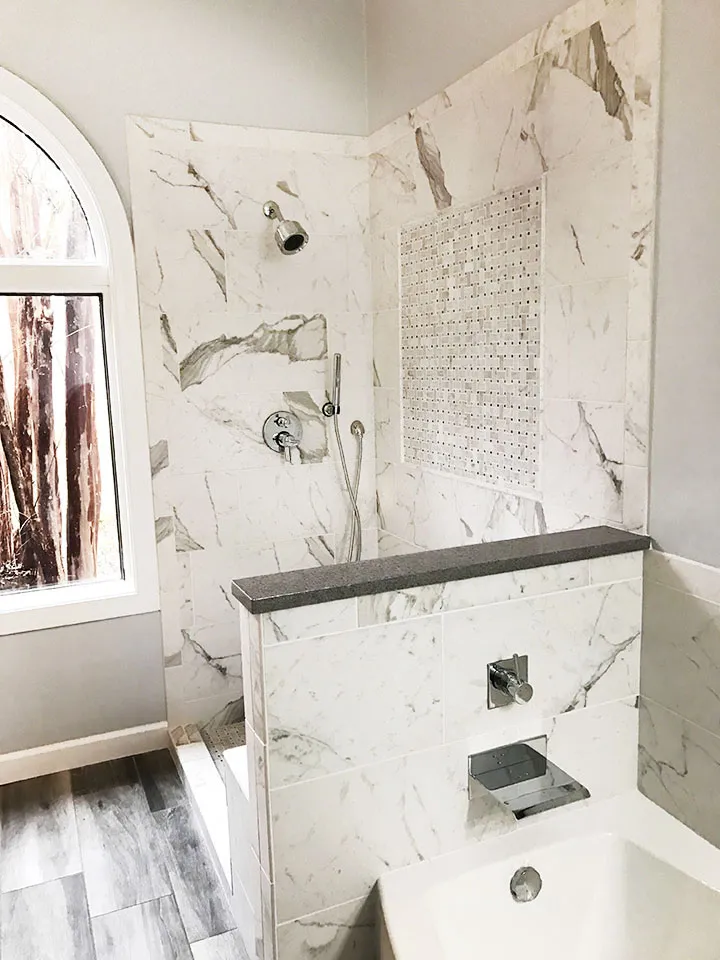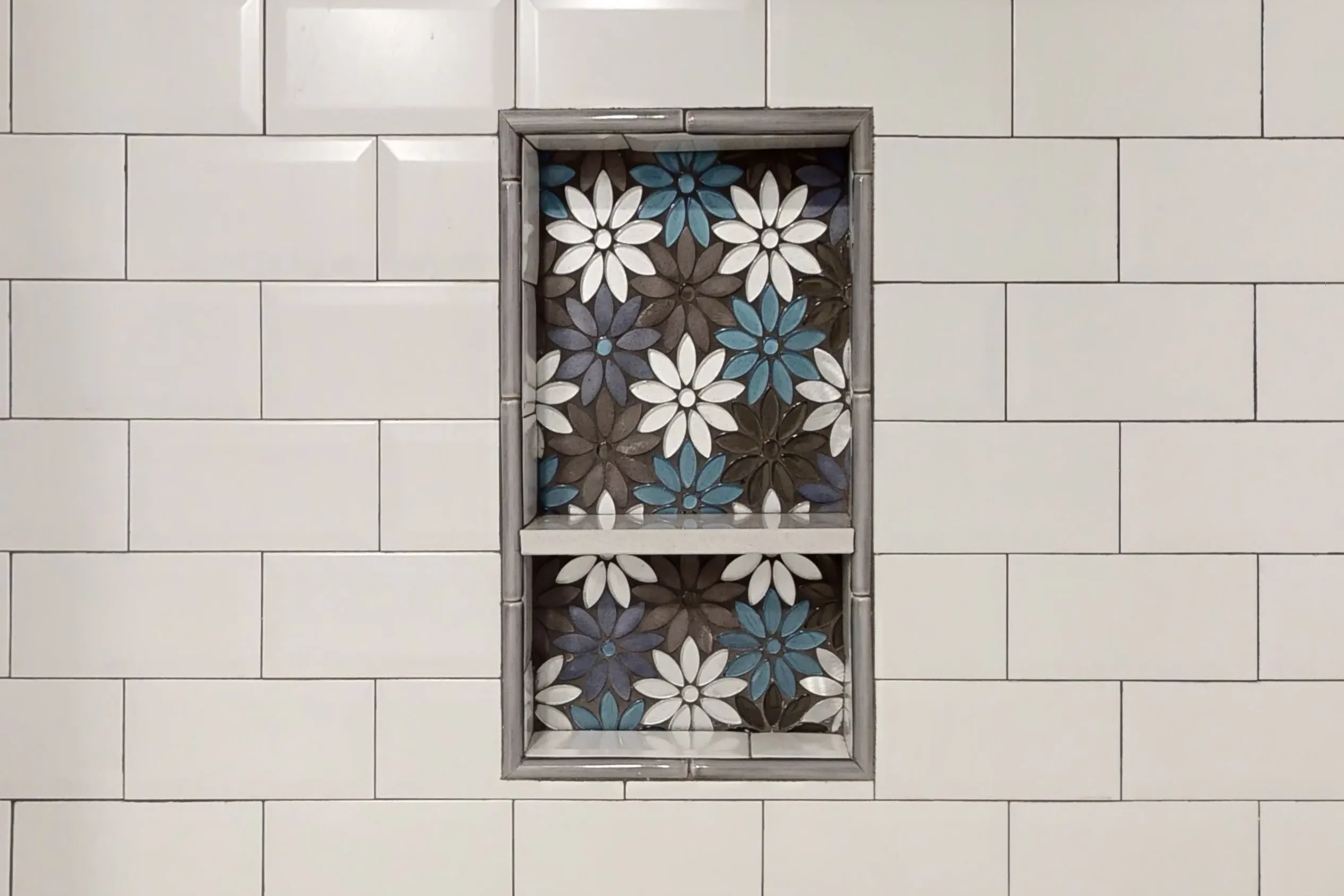 There is a great misconception about bathroom tile and tile installation – that it's easy to install. When it's done right, we beg to differ. Our professional tile installers have years of experience cutting, laying, and setting tile. Their expertise allows them to create a beautifully finished look, even when working with walls that aren't straight, floors that aren't level, or spaces that are irregularly-shaped.
The Bath Shop tile installers regularly tackle complicated tile patterns, tile mosaics, large format tiles, and special edging. Furthermore, they know the properties of glass tile, natural stone tile, and every other unique tile type; each has its own nuances for proper installation.
To see why The Bath Shop is renowned for superior tile design and installation, view our portfolio or schedule a consult.
Get Started On Your Project
Let's talk about your bathroom or kitchen ideas and bring them to life!