The beginnings of a bathroom remodel are always filled with exciting questions about key bathroom features: How can you make the most of your bathroom tile design? What about the best paint colors? And how can you make your remodel look like a designer bathroom? Chances are, you aren't thinking about where to put essentials like the towel bar and toilet paper holder yet. Eventually, though, a bathroom remodel comes down to putting everything in the right place – especially those important accessories. The Bath Shop has your bathroom remodel covered from start to finish. Here are a few tips on where to put essential features in your newly designed bathroom.
Towel Bar and Rings
The towel bar and rings can be attractively installed in multiple spots throughout the bathroom, but functionality is the ultimate concern for placement. Naturally, you'll want towel bars within reach of the shower or bath and towel rings close to the sink. In terms of height, we recommend placing the towel bar 48 inches above the floor – same for the towel ring. Of course, this is an average height, and you may want to customize your remodel further based on who exactly will be using the bathroom. If you're designing a children's bathroom, for instance, you'll want to aim lower – about 36 inches from the floor. If the little ones are just about to hit a growth spurt, on the other hand, you may want to go ahead and opt for a higher setting.
Towel Warmer
While accessibility is important for all essential bathroom features, when it comes to the ever-luxurious towel warmer, prioritize safety first. Towel warmers become fire hazards when installed on the bathroom door or just behind it, where overheating can occur. You don't want your towel warmer too close to the shower, bath, or sink either – water splashing could become an electrocution hazard. The best place to put your towel warmer is at least 12 inches away from sources of water splash, like the shower. To avoid grazing the towel warmer with your leg, make sure it's installed at least 36 inches up from the floor. Proper installation is of the utmost importance – the towel warmer needs to be firmly secured to drywall with ground wiring. For this reason, the towel warmer is one bathroom feature you should never play DIY with – make sure to consult with your bathroom remodeler about it.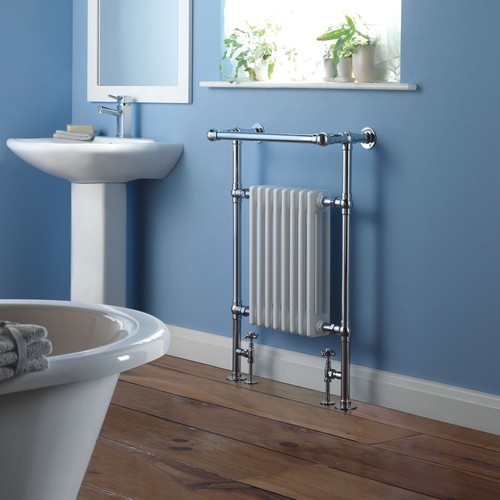 Toilet Paper Holder
Perhaps the most under-considered but oft-used bathroom feature, the toilet paper holder also comes with special installation guidelines. The sweet spot for your TP holder is 26 inches above the floor. This applies for comfort height toilets as well. You'll want your holder 8 to 12 inches away from the front of the toilet bowl. As is the case with all essential bathroom accessories, you'll want to consider some customized measurements here. Depending on the height of your household members, your installer can find the perfect spot, with 8-10 inches for little ones, and 10-12 inches for long-armed adults.
Shower Niche and Soap Dish
Shower niches have been called the new must-have for shower remodels, according to Architectural Digest. But how do you properly place them in your newly remodeled shower? The ideal height for a shower niche is chest to eye-level – on average, that's about 48 to 60 inches for adults. Depending on the height and size of your shampoo, shower gel, and other bathroom accessories, try somewhere around 12×24 inches for the dimensions of each shelf. To avoid shower spray with each use, place your shower niche on an opposite or adjacent wall to the shower head. Soap dishes typically go between the shower head and valve or on centered on the back wall, about 10-16 inches off the tub. You can further customize based on your go-to bathroom products, storage needs, and height.
The Perfect Place
Hands down, the best part of a professionally designed and customized bathroom remodel is getting to use a bathroom where everything is in the perfect place. While major elements, like tub-to-shower conversions, come first, proper placement of essential bathroom features puts the final touch on your remodel. To ensure your remodel is completed perfectly with every detail, contact us at The Bath Shop. Our expert team will help you through the entire remodel process, from the very beginning to the final touches.